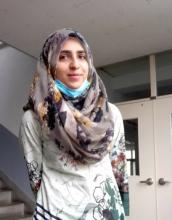 PhD supervisor: Prof. Antonello Mallamaci, Laboratory of Cerebral Cortex Development
Career Summary: I realized my passion and motivation for neuroscience in high school which led me to opt for life sciences as a major in undergraduate studies. I did Bachelor's in Physiology from Government College University, Faisalabad, Pakistan in 2018. Afterwards, I joined the National Institute for Biotechnology and Genetic Engineering for six months to gain practical hand training in various molecular biology techniques. I got to work as a Research Assistant at Alzheimer's Disease Research Institute, Kyungpook National University, South  Korea for two and a half years, during which I developed an interest in pursuing further studies in computation as well. 
I decided to choose the Functional and Structural Genomics in Laboratory of Cerebral Cortex Development at SISSA, due to my interest in neurodevelopmental physiology and neurodevelopmental disorders. 
As part of my research at SISSA, I intend to study evolutionarily conserved genes involved in neurodevelopment and hope to merge computational methods with my research.